River Glen Country Club, located along the White River just minutes north of Indianapolis in Fishers, is an excellent facility to host your next event.
We host a variety of events, including: *Wedding Ceremonies & Receptions *Rehearsal Dinners *Golf Outings *Company Meetings & Retreats *Anniversary Parties *Birthday Parties. Call 317-577-4555 and ask for Stephanie to receive more information. Our clubhouse can accommodate up to 150 people. We look forward to making your next event a big success!
A Thank You to River Glen
I just wanted to let you know what a great job you and your staff did in planning and carrying out my wedding reception. You handled all of my phone calls so calmly and I always felt reassured that everything would go smoothly. I just cannot emphasize enough how impressed I was by your entire staff. You can be assured that I will certainly recommend River Glen Country Club whenever I have the chance! Thank you so much!
David & Kendra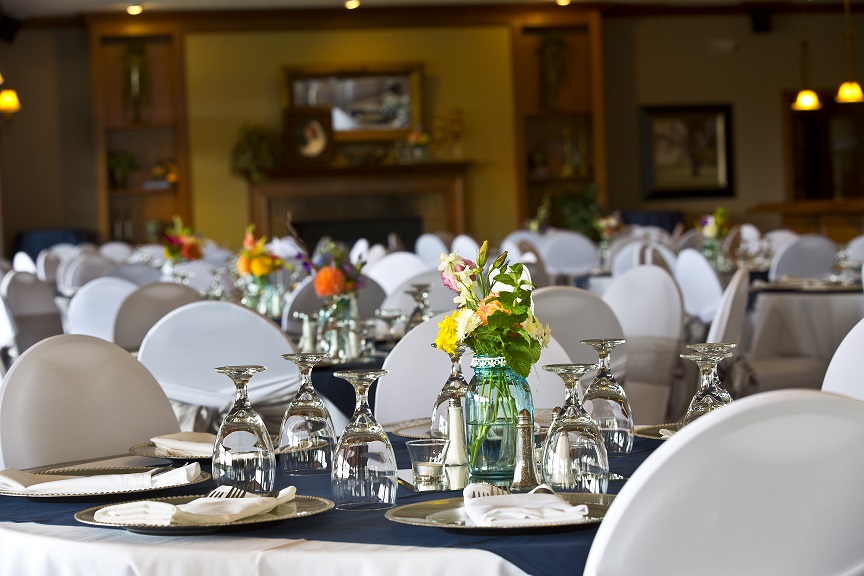 Thank you so much for helping make our big day complete! You have been awesome to work with.
Alisia & Josh
Thank you to you and your staff for helping make our wedding wonderful! The last year has been great and we are so happy it all started with River Glen!
Jeff & Brittney
Just wanted to drop a note to express our gratitude for all you did that went into making our Christmas party a success. A good time was had by one and all!
Jan
We would like to send a huge thank you your way for all you've done to help make our wedding a day we'll never forget. Everything was fantastic and the way we imagined it would be. We would also like to thank you for your hospitality, flexibility and customer service. River Glen was an excellent place for our wedding and we'll be sure to recommend this venue to others.
Sherry & Scott