Bar Service Information
River Glen provides complete bar service for your event. Your beverage options include: Choice of two draft beers (Miller Lite, Coor's Light, Bud Light and one specialty beer), Cabernet Sauvignon, Merlot, Riesling & Chardonnay, and fountain Coke products included in your event package. Champagne included for the head table. Additional options available.
Champagne toast $1 per guest
Premium Liquor Open Bar
Includes the following: Jack Daniels, Jim Beam, Maker's Mark, Svedka, Stolichnaya, Sky, Titos, Flavored Stolichnaya, Tanqueray Gin, Barton's, J & B, Jameson, Dewar's White Label, Canadian Club, Seagram's 7, Canadian Mist,Crown, Bacardi Superior, Meyers (dark), Captain Morgan (spiced), Malibu, Kahlua, Amaretto, Bailey's Irish Creme, Schnapps, Jose Cuervo Gold  $9.95 per guest 21 and over
Other liquor available by the bottle; inquire for pricing
Cash Bar guests pay cash for mixed cocktails; prices include tax
Mixed $5.00 each Specialty $6.00-$7.00 each
8% sales tax not included in option I. NO ALCOHOL CAN BE BROUGHT INTO OUR FACILITY.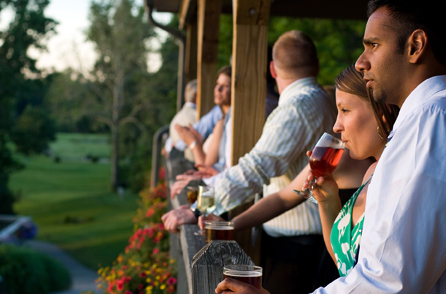 photo courtesy of Zach Dobson